Mompreneur Mogul Store
This is a brand new feature for my site. Of course my first product is Get Famous the powerful book that bloggers are raving about. See what they have to say below. However in response to the many emails I receive I'm launching some other products as well. You can read some details below and PLEASE use the comment section to tell me other products or add to these existing that would benefit you. I"m designing these now so they can be custom detailed to suit your needs!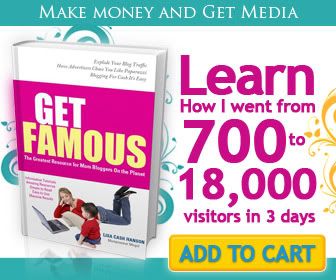 Listen To What Bloggers Think About Get Famous
[quote] "I am trying everything that you have recommended… at least everything that I can fit in. I am being spotlighted tonight on ABC  after answering a query about kids and CT scans. Yikes! I hope this is something good. The reporter was awesome and absolutely was fine with mentioning my blog name. So cool![/quote]
[quote]I finished Lisa's book on June 29. Today is July 19.  So far since finishing and beginning to apply the suggestions in her book, our results have been: 1 feature of a recipe on an award-winning blog with over 7 million users, improvement in Alexa ranking, an interview with a major media outlet for potential feature, over 5 TIMES the number of pageviews from July 16 to July 17, and I am being interviewed on a BlogTalkRadio program next week!
This morning I tweeted the screenshot showing our traffic jump on July 17 this morning: @thesatevepot.  Lisa's book is the only resource for bloggers that we have seen these types of immediate results using…. if you have been thinking about investing in yourself by getting her book, take action today.  There are never any guarantees but many others are experiencing similar results!
~Anne, Co-Owner and Co-Author of the food blog, The Saturday Evening Pot[/quote]
[quote]"My stats have gone from 1,500 views a month to around 2,400, my Twitter followers tripled in one week, my Alexa rank changed by 1 million in just a couple of weeks and my Klout score has jumped from 20 to 36 Writers are asking to guest post on my blog and companies are pitching me!"
Tamara (Aspiring) Domestic Goddess Mommy[/quote]
[quote]I have read many "How to Make Money from Your Blog" books from all the leading male "gurus". I find them repetitious and boring, however they are making tons of money!! So Kudos to the men making all the money! On the other hand Lisa's book is from a woman with a stay at home mom's perspective. It is refreshing, easy to read and she has already invested hours finding the most powerful resources so you don't have to! I use it daily when I want to find out how to pitch the media, ways to promote my blog and companies that will pay for my reviews. Why does that matter to you? She shows YOU how her traffic jumped from 700 visitors to over 17,686 in just one month! There are over 100 major resources to help you increase your traffic, make money blogging and get companies to chase
Lisa MomBloggerBuzz[/quote]
[quote]"I can't thank Lisa enough. Not only did she give me my first paid review she also coached me on how much to charge. I was super excited and it was awesome."
– Michelle Sutter powered-by-mom[/quote]
[quote]Hi Lisa,
I just purchased your book, and am so excited about the great resources you have shared. I was already familiar with some of them, but many were completely new to me. I have implemented a few of your resources, and am working my way through your list. Thanks so much for sharing your research, and making it so affordable for the rest of us!!!
I've found my voice, and I'm learning to not be afraid to use it… thanks for your encouragement!!! ~ Connie Creator of Bible Crafts 4 Kids[/quote]